As the name implies, a manhole is a valve that is used to cover the surface of a manhole to prevent people or objects from falling into the manhole. In recent years, composite manhole valves have been able to replace iron or cast iron valves for many reasons. One of the main reasons they were difficult to lift and install was because of their heavyweight, which damaged both workers' necks and backs and increased installation costs. According to a US study, only 10 per cent of men were able to move metal manhole valves, and the rest needed a device to do so. Therefore, there was a need to improve manhole metal valves, and composite manhole valves were able to easily replace their old counterparts with their advantages. The cost of treating people who were injured to move manholes was greatly reduced, and wells became safer. For the first time, a British company developed composite manhole covers for 10 years to estimate their performance in a large test program, replacing all steel, iron and concrete valves. Research has shown that not only do composite valves perform better, but they also weigh one-third as much as cast iron valves and are 80 per cent lighter than concrete and steel valves. Let's look at the other benefits of composite manhole valves.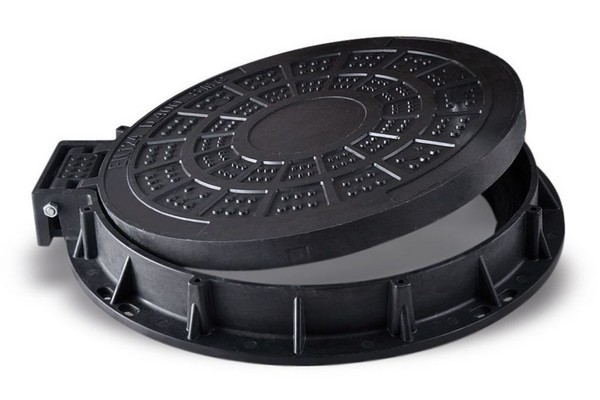 Advantages of composite manhole valves
Anti-slip surface
Anti-theft (worthless to thieves)
Anti-rot against water
No decay against chemicals
No sound
Easy to install
Reduce the rate of damage to workers' bodies
The price is right
More efficient production (less damage to the environment)
Installed by one person only
long life
No color change
High pressure tolerance
Composite manhole cover material
This question may seem ridiculous at first and you can imagine that it is clear that the main ingredient of this product is composite, but I must say that I mean what material the composite came from that suddenly managed to market the manhole covers and be better than all your competitors?
Composite manhole cover comes from a combination of materials and polymer resins and Silica fibres, Calcium carbonate, Color pigment, Peroxide, Unsaturated polyester resin as well as other chemicals.
How to buy a composite manhole cover?
It is always better to buy directly from the manufacturer because you can make your purchase at a better price and it is possible to visit the production process and get confidence in the raw materials.
In Iran, one of the best manufacturers and sellers of all kinds of manhole valves is Ab Sanat Company, which produces products with international standards and accompanies buyers from the initial stages to the end of projects. To answer any questions regarding products or free consultation and sales, we are at your service, just get help through the communication channels listed on the website. You can contact us from the contact us page.